Located in the Port of Ios, Greece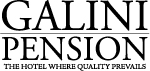 Photo Gallery
Local Information
Travel Information
Contact Us
Phone: +30 22860 91115
Fax: +30 22860 91890
Email:

BOOK ONLINE
About Us
Galini Pension would like to invite you to your first introduction to a wonderful stay on Ios Island, Greece. Galini offers you a very comfortable stay in there accommodation, footsteps away from Yialos Beach and beside the Port of Ios. This hotel is perfectly situated for a relaxing vacation and the lavish gardens that surround the hotel provide a peaceful escape for guests.
All our standard rooms are well equipped with modern facilities – air conditioning, TV, fridge, hairdryer and en-suite bathrooms – some of our rooms have sea views and we also have some studios with kitchen in our complex. Yet we still haven't lost that lovely Greek island feeling in Galini, which is quaint and picturesque even though it has all the modern amenities of today.
Suitable to people of all ages, young and old, families and couples or if you're simply travelling alone, Galini is your perfect choice – very clean, helpful staff, reasonable prices and great value for your money, plus routard recommended! This hotel is where quality prevails.
What's Free
Port pick-up
Wi-Fi
Internet Access
Parking

Location
Galini Pension is situated footsteps away from Yialos beach and beside the port of Ios, which has everything you need from the area within. Beaches, water-sports, shops, supermarket, restaurants, great coffee bars and more. Also not far from the Village, as nothing is far on Ios!
About Ios
Ios is a very beautiful and unspoiled Greek island, which has something for everyone. Depending what you want to get from you're own holiday. Surrounded by what has to be some of the most beautiful beaches in the cyclades. Ios is also is known for its amazing night life. Suitable to people of all ages, family and  couples, young and old.